THE RONALD MCDONALD HOUSE AVENGERS INITIATIVE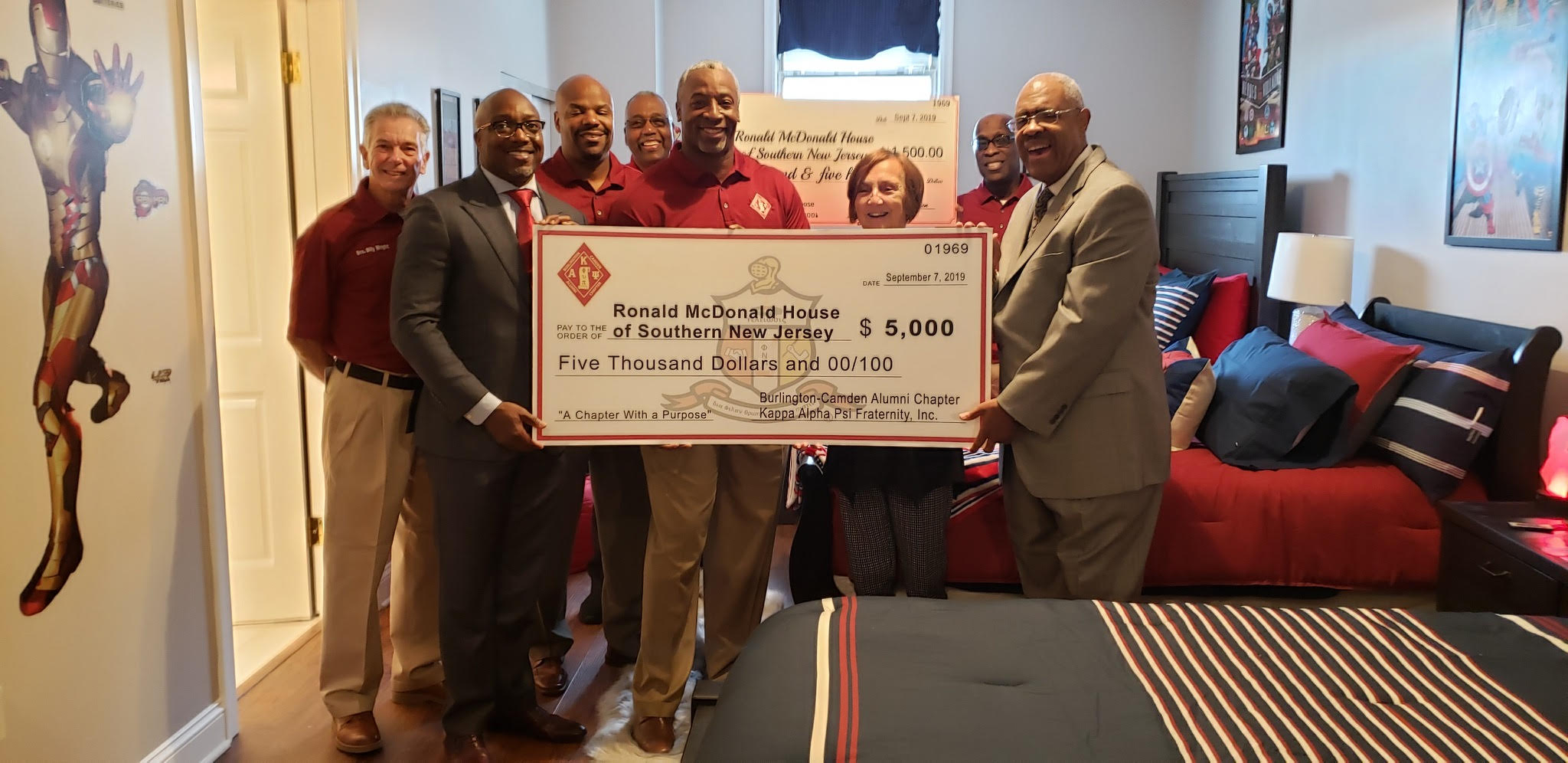 On Friday, September 13, the Brothers of the Burlington-Camden Alumni Chapter fulfilled a promise that began in August of 2018 by donating $5,000 to The Ronald McDonald House of Southern New Jersey (RMHSNJ). It is was during our annual chapter retreat in 2018 that we developed the framework for A Mid-Summer Dream, The All-White Affair (AMSD) as the primary fundraising vehicle . This party with a purpose along with our community partnership with RMHSNJ would be the catalyst for our ability to support children and families. The best way to accomplish this
initiative was our chapter taking part in their Adopt-a-Room Program".
The Adopt a Room Program specifically allowed our chapter to design and create a comfortable and relaxing space for the families of children who are undergoing treatment or surgery – in many instances to save their lives. It was unanimously agreed upon that our decorative theme would be "The Avengers". In our eyes these children and families their are the true super heroes. The children of these families requires specialized medical care for months at a time. As part of the program The Avengers Room will enable families to stay together during these stressful times providing a sense of normalcy – at least as much as possible. This is a representation of the strength and courage that each family must have during these tough times. What they demonstrate on a daily basis is the realization that you don't need to have super powers to be considered a super hero.
The Ronald McDonald House is a home away from home enabling family members a place of peace and refuge as they focus on the health and well-being of their loved ones. The length of stay can vary from a few weeks to several months with each day filled with the emotional rollercoaster of happiness, fear and hope. Each year approximately 800 families from around the world have receive temporary housing, meals, and support while their children receive life-saving, specialized treatment at local hospitals. Over the past three decades the RMHSNJ has served more than
24,000 families.
The purpose of our fraternity is achievement in every human endeavor and our chapter motto is a chapter with a purpose. So what better endeavor than to help the youngest of our humanity. What better purpose can a chapter have than than to give so that others may live?